Latest news - updated 31st March 2020
Tuesday 31st March 2020
We send best wishes to all our families during this time, while the government guidance remains to stay at home.
Please see an update from the Local Authority;
Please note that the Covid 19 link on the Local Offer page is now live here. It contains information on:
Thursday 26th March 2020 - ongoing contact
We are glad to have spoken to families and hear how you are all during the stay at home period. Staff will continue to be in touch as regularly as you would like. Do be aware, that the call may come up on your phone as ID withheld or similar.
Boxes of resources and / or work packs are being distributed and your child's teacher will talk to you about ideas for activities if that is useful to you.
If you have not had a call, need to get a message to us or just want to ask something, then do please leave a message at the secondary number 0208 801 6111 with you contact number and we will get back to you.
Wishing you all very best wishes at this time.
We will get through this together!
With best wishes
Sarah McLay
Headteacher
Monday 23rd March 2020 - reduced care provision
With Government advice changing almost daily, we are asking parents and carers to consider whether it is absolutely necessary to have child care provision at the school.
The first and most important message, is if you are able to stay at home and care for your child, that is the safest option for them and for you.
We are prioritising children of key workers who have to work, so that we keep NHS and essential services running. This includes a small number of children across the school, so we will continue to stay open for them. For other parents and carers, if you need us we will do our best to offer.
Please do consider this carefully and we will continue for as long as we have staff to provide for those who need us.
If you are keeping your child at home, if we have not already, we WILL contact you to offer support.
20th March 2020 - Vale School has closed as a school today until further notice.
We are now preparing to start providing care support in school for those that we can and in different ways for others.
We have contacted all families today, many by phone but some still only by text. Please be assured we will get to you all. We will be in contact on Monday or Tuesday.
If you have asked for your child to come in, we are working on this to start on Wednesday 25th March and we will be in touch to confirm arrangements.
Thank you for bearing with us and best wishes to you all.
Coronavirus update for parents 19.03.2020
Dear parents and carers,
Most of you will now know that yesterday, the government has ordered schools in the UK to close on Friday afternoon until further notice.
With our primary department already closed for the time being, I know that this is difficult news for the entire community, but I want to reassure everyone that we have been preparing for this announcement and continue to work on next steps. For example, we are working on uploading onto the website resources and videos and looking at other ways to stay in touch with families.
While all schools are closed for education as we know it, we are being asked by the government to consider how we can stay open to support families with looking after their children. Over today and tomorrow we will plan for how we can offer a service to look after the children of key workers and/or how we can offer further care for our children with EHCPs for whom it is safe to continue to attend. At this point we are unable to give you any more details, but we will let you know what our plans are as soon as possible.
All staff have worked tirelessly this week to ensure we have 'home learning' arrangements in place. We have sent home packs of worksheets and activities for some classes and the website is being uploaded with ideas for activities and videos of songs etc. We are looking at further ways of keeping in touch with you and your children.
I am sure that you will join me in thanking all our fantastic staff for working so hard at this difficult time. Some cannot be in school at the moment but are working hard at home.
I want to thank you all for working with us and your continued support for the school at this time. For now we will update by school text and via the website. You can also call our secondary department and speak to someone or leave a message and we will get back to you as soon as we can.
Please note:
Government guidance: We are advising those who are at increased risk of severe illness from coronavirus (COVID-19) to be particularly stringent in following social distancing measures.
This group includes those who are:
aged 70 or older (regardless of medical conditions)

under 70 with an underlying health condition listed below (ie anyone instructed to get a flu jab as an adult each year on medical grounds):

chronic (long-term) respiratory diseases, such as asthma, chronic obstructive pulmonary disease (COPD), emphysema or bronchitis
chronic heart disease, such as heart failure
chronic liver disease, such as hepatitis
chronic neurological conditions, such as Parkinson's disease, motor neurone disease, multiple sclerosis (MS), a learning disability or cerebral palsy
problems with your spleen – for example, sickle cell disease or if you have had your spleen removed
a weakened immune system as the result of conditions such as HIV and AIDS, or medicines such as steroid tablets or chemotherapy

being seriously overweight (a body mass index (BMI) of 40 or above)

those who are pregnant
17th March 2020
Update on self isolation: where any person in the household is unwell with fever and cough, the whole household needs to self-isolate for 14 days.
Please click here for the guidance released yesterday by the government on social distancing. This gives more information about what that means.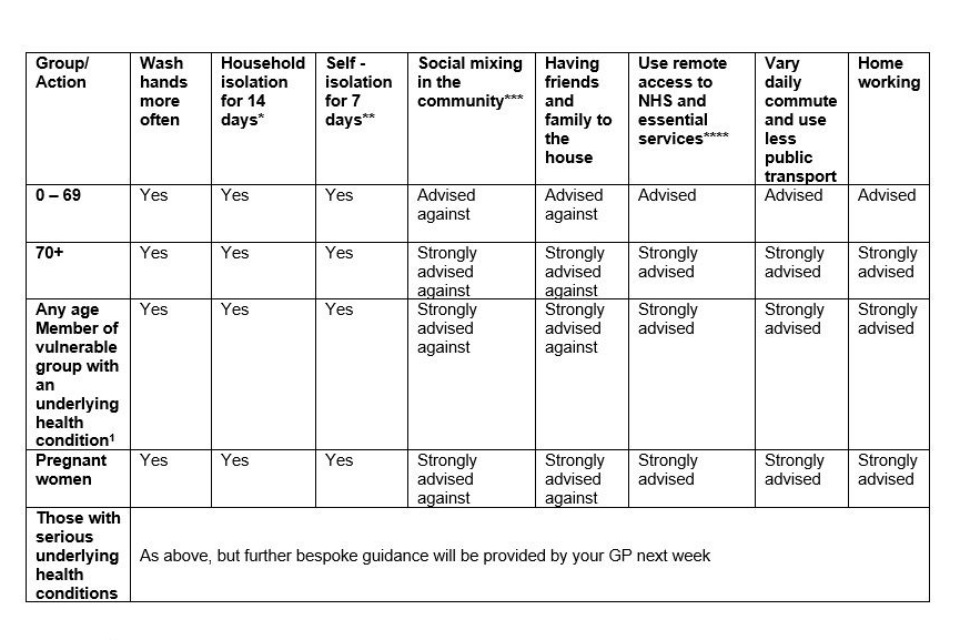 * if one member of your family or household has a new continuous cough or high temperature
** if you live alone and you have a new continuous cough or high temperature
*** for example cinema, theatre, pubs, bars, restaurants, clubs
**** for example via telephone or internet
1 such as anyone instructed to get a flu jab each year
With ever changing news etc, it is important to consider your own resilience and look after yourself and those around you. Make sure you are looking after yourself, doing what you can to help get a good night's sleep, eating well and doing exercise.
The Mind website has a 'coronavirus and your wellbeing' page which provides information about those who are worried about coronavirus and the impacts of managing it. You can find it by clicking here.
-------------------------------------
16th March 2020
Dear parents and carers,
Latest information about coronavirus from Public Health England (PHE)
We are following current PHE advice and Vale School to remains open. However,
- staff, young people and children should stay at home if they are unwell with
- a new, continuous cough or a
- high temperature
If you or your child have symptoms of coronavirus infection (COVID-19), however mild, stay at home and do not leave your house for 7 days from when your symptoms started. Please see below a link to further information about stay at home guidance.
Please let the school know if you or your child develop symptoms.
- if staff, young people or children become unwell on site with a new, continuous cough or a high
temperature they will be sent home. If you do receive a call, please come to collect your child.
Vulnerable children – as we do have children who are more vulnerable at our school, as of today we are advising all parents that we do have a number of staff and children who have developed symptoms and are self-isolating at home. Whilst we do remain open, you may decide to keep your child at home; please let us know. Do give us a call if you are unsure and would like to discuss this with us.
We will continue to:
- clean and disinfect regularly touched objects and surfaces more often than usual
- supervise children to ensure they wash their hands for 20 seconds more often than usual with soap and
water or hand sanitiser and catch coughs and sneezes in tissues
We appreciate that this is a difficult time and we are here to support children and families at school and over the phone. We will keep updating the school website as and when we receive any further information. We will also start to update class news pages with activities to do with your child if you are self-isolating. Please remember that evidence suggests coronavirus generally causes a mild illness in children and young people.
------------------------------------
If you have symptoms of coronavirus infection (COVID-19), however mild, stay at home and do not leave your house for 7 days from when your symptoms started.
- new continuous cough and/or
- high temperature
For most people, coronavirus (COVID-19) will be a mild infection
CLICK HERE FOR: stay at home guidance for people with confirmed or possible coronavirus (COVID 19) infection
----------------------------------------------------
The most important thing schools can do at present is to emphasise the importance of normal hand hygiene measures, while continuing with business as usual.
There are general principles that all schools should follow to help prevent the spread of respiratory viruses, including:
Anyone who feels unwell with either a cough, difficulty breathing or a fever should stay at home and should not attend work or any education or childcare setting.

Wash hands more often - with soap and water for 20 seconds, or use alcohol sanitiser if handwashing facilities are not available.

Covering mouth and nose with a tissue, or the sleeve if no tissue available, throwing the tissue away immediately. Catch it, Bin it, Kill it.

Clean and disinfect regularly touched objects and surfaces using any regular cleaning products to reduce the risk of spreading the infection on to other people.
Information about coronavirus from Public Health England
There are general principles everyone can follow to help prevent spread of respiratory viruses, including:
washing your hands often - with soap and water (particularly important after taking public transport)
people who feel unwell should stay at home and should not attend work or any education setting
pupils, students, staff and visitors should wash their hands:

before leaving home

on arrival at school

after using the toilet

after breaks and sporting activities

before food preparation

before eating any food, including snacks

before leaving school
use an alcohol-based hand sanitiser that contains at least 60% alcohol if soap and water not available
avoid touching your eyes, nose, and mouth with unwashed hands
avoid close contact with people who are unwell
clean and disinfect frequently touched objects and surfaces